Grass Guru provides mowing and many more lawn care services in Elkhart County, IN
All of our clients are on a weekly mowing schedule. Each week our team of professionals will mow, trim around obstacles, and blow off your driveway, walkways, and patios making them free of debris.
Grass Guru Lawn Service, LLC, is a licensed fertilizer applicator through the Indiana State Chemist for 3B Turf Management.
Our 5 Step Turf Builder Program means you can "set it and forget it." We'll come out 5 times a year to apply the proper amount of nutrients without depleting your budget! Learn more or give us a call for whatever your grass goals are!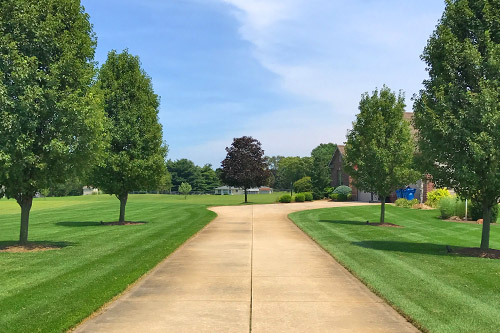 Edging (Sidewalks, Curbs, Driveways)
Do you want picture perfect? Edging is the perfect complement to a well mowed and trimmed lawn that will make your neighbors envious.
Core Aeration / Overseeding
Aeration is one of the best ways to make your lawn thicker and improve the effectiveness of normal irrigation and fertilization. Combine overseeding during aeration for even better results! Learn more and get on our Fall service schedule.
Trimming your hedges, to shaping your shrubs, pruning & shaping of shrubs, mulching, weed control, pick up of all leaves left from the previous Fall / Winter. Let us help you get that yard into shape!
Let's get started!
Send us some details about your property and the services you need.